Sundek Products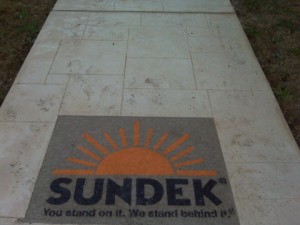 Sundek offers different concrete products. It provides decorative concrete, concrete design, custom concrete and concrete coatings. Sundek is located in Nashville, TN.
Sundek concrete products are SunGlaze, SunColor, SunSand, SunSplash, SunCanvas, SunStone, Classic Texture, Tuscan and SunStamp. These concrete products provide different decorative concrete, concrete coatings, concrete design and custom concrete textures.
Tuscan offers custom concrete overlay designs. Tuscan products are trowelled to attain the desired effect. Its design is patterned from European construction styles. It is ideal for use in pool area, patio, entryway, walkway, driveway and balcony. It can also be installed vertically or horizontally. It is recommended for commercial and residential purposes.
Concrete coatings include SunCanvas, SunSplash, SunStone, SunColor, SunGlaze and SunSand.
SunCanvas provides the finest and glossy coating. It easily adheres to terrazzo, marble, ceramic tile, plastic, metal, wood and concrete.
SunSplash is sprayed onto surfaces. It is specially designed for exterior surfaces of stairs and floors. It is capable of shielding surfaces from salt contamination, natural pollutants and weather conditions.
SunStone provides a type of coating made from limestone substance. It is designed for stucco, hardi board, cinder block, sheet rock, brick, concrete, foam and walls.
SunColor provides a water-based acrylic coating solution. It offers durability and does not require maintenance.
SunGlaze is made from pulverized color particles. Its properties are capable of providing a polished finish. It is designed to protect exterior surfaces.
SunSand can be combined with water-based acrylic and lime coatings. It can also be combined with aluminum oxide and glass beads to enhance the texture effect.
Classic Texture offers decorative concrete effect. It has limitless colors and outlines. It is easy to maintain. Its exterior surface provides lower temperature than concretes. It is capable of producing coating results that are resistant to slippage.
SunStamp offers options for custom concrete design. It is equipped with custom-built form, template, color and stamp options. Its resulting design is ideal for commercial and residential locations.
We serve Murfreesboro TN, Bowling Green KY, Huntsville AL, Whole state of TN, Memphis TN, Hopkinsville KY, Paduka KY

SUNDEK OF NASHVILLE
(615) 822-7134