With love for the theater, you decided to operate an outdoor venue in Nashville. Although you feel confident in bringing patrons amazing performances, you have concerns about the floors. Looking dull and outdated, you recognize the need to make a change. For this, you should seriously consider concrete resurfacing.
Especially if you already have acts lining up to start at your Nashville theater, you need a solution quickly. The problem with having a concrete surface ripped out and reinstalled is it takes weeks, sometimes longer depending on the size of the space. Not only that but during the project, the workers create a significant mess, which does nothing for marketing your upcoming shows. In comparison, an expert can usually finish a concrete resurfacing job in a single day and without any mess.
In this case, an experienced contractor or installer first prepares the surface. After making any repairs, cleaning the concrete, and then allowing it to dry, the professional goes to work applying the decorative solution you selected. Although you have many excellent choices, for an outdoor theater, a product like Classic Texture should rank high on your list of possibilities.
This spray-on acrylic finish has been around for many decades. In fact, it played a critical role in the development of the decorative concrete industry. Proven as a superior concrete resurfacing option, it makes perfect sense to consider this for your Nashville theater. You can select from a host of gorgeous colors, and based on the look you want to achieve, the expert can create unique design elements using custom score lines, masonry effects, and aggregates.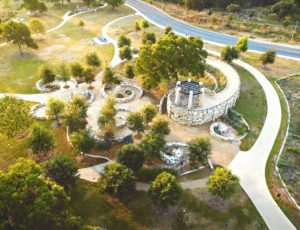 Once finished, you end up with a surface that looks fantastic, holds up to a significant volume of foot traffic, and more importantly, has a slip-resistant surface. With this concrete resurfacing solution for your outdoor theater in Nashville, you will also discover how comfortable the surface is to walk on. That means for longer shows where people stand, you never have to worry about anyone leaving early.