As a builder, you work in a highly competitive market. Therefore, it is important that you pull out all the stops in an effort to entice buyers. Among the many different tools at your disposal, a model home works incredibly well. After all, a lot of people are visual, meaning they can only imagine what a house would look like if they see it filled with furnishings. Therefore, when building a model home in Nashville, consider decorative concrete entryways that grab peoples' attention the minute they walk inside.
For this, you have multiple possibilities, including a hand-troweled custom design created by an artisan and an architectural micro-topping that creates a stunning marbled effect. For the first example, a product called Tuscan will surpass all your expectations. With textured high and low areas, the surface looks stunning.
Also, you can select from different coloring options such as a clear finish, colored stain, oxides, and acrylic finishes. Because this particular solution is thinner than most stamped overlays on the market, it yields a stunning look that people remember. For concrete entryways in your Nashville model homes, this flooring system deserves serious attention.
However, an architectural micro-topping makes just as powerful of a statement when used for concrete entryways in the model homes you have in Nashville. Along with durability, what makes this an excellent choice is its versatility. In fact, by selecting a different color or coloring system, you could use a product like SunCanvas for all your properties yet achieve a unique look for the different floor plans.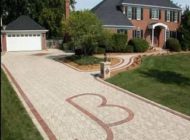 By installing decorative concrete entryways in your Nashville model homes, you provide potential buyers with a vision of what their home could look like. This also allows you to showcase the different possibilities, allowing them to select the flooring system they like best. Because other builders vie for your same customers, you need to think outside of the box when it comes to beautiful design elements.