You feel fortunate to have a garage and workshop at your Nashville home large enough to park your vehicles and work on special projects. In fact, with so much room, friends often stop by to help. However, the one thing you do not like about the space is the boring gray floors. If you want to make this area of your home look and function better, focus on epoxy coatings.
Due to the amount of time you spend in your garage/workshop area and based on the types of projects you do, you need a flooring solution that can withstand a lot of abuse yet still look incredible. The great thing about epoxy coatings is they accomplish both goals. You can create an amazing area that will provide you with many years of service.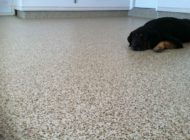 For some reason, many think epoxy coatings only come in black. The truth is, you can select from multiple colors for your Nashville garage and workshop. If preferred, a professional installer can use more than one color to create something extraordinary.
Beyond color, you can have epoxy coatings patterned and textured. You can even have several types of coatings applied to give the space a one-of-a-kind look. If you want to enhance the appearance of your floors, you can opt to have quartz beads, metallic flakes, and other aggregates added. Along with improving the appearance, this makes the floors even more slip-resistant.
Of course, there are many additional reasons to choose epoxy coatings for the garage and workshop at your Nashville home. A product like SunEpoxy 54 produces a seamless monolithic floor, which would reduce any risk of tripping and sustaining an injury. Also, this particular flooring system is low-odor and low-VOC. Even better, with its fantastic resistance qualities, you never have to worry about damage from impacts, chemicals, or abrasions.
Another excellent possibility comes from a product called SunEpoxy 100. Considering you have people coming and going, this might serve you better since its formula is specifically for heavy-traffic areas.