Even if you have the highest-quality decorative concrete product applied to your floors, at some point, you could face issues like faded color and surface imperfections. Instead of having the slab ripped out and reinstalled, there is a much better option in the form of stamped concrete rehab. Especially using a superior product like Sun Restore 112, your floors will look new in no time.
When it comes to stamped concrete rehab, this resinous patching and repair system makes a perfect choice. Depending on the size of the area involved, an expert can complete the work within hours, and the process usually never takes longer than one day. Whether you have less-than-stellar floors in your home, restaurant, law firm, or arcade center, this solution is ideal for restoring both beauty and functionality.
As a stamped concrete rehab solution, this product is ideal for a broad range of damaged floors, inside and outside. Not only does a top-of-the-line restoration product fix problems, but it also helps level out concrete. Before you hire a crew to come in and tear out an existing concrete surface, which can be a messy, costly, and time-consuming process, consider rehabilitation.
If you have a business with a lot of customers that come and go, stamped concrete rehab makes sense. Rather than force people to walk around men working with jackhammers, you can have an expert work after hours to restore the surface. The only thing your customers will see is a beautiful new concrete floor that enhances their shopping experience.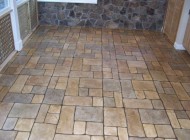 Something else to consider is that if you select Sun Restore 112, you end up with a surface three times stronger than concrete alone. That means your newly restored floors can withstand a tremendous amount of daily use and abuse. Also, you can choose from 16 signature colors to perfectly match non-damaged areas. Finally, stamped concrete rehab works great for both horizontal and vertical surfaces.