No one said you had to have boring floors. Instead of having boring floors in the office, restroom, and around the dojo of your Nashville martial arts studio, make a change. If you have classes specifically for children, not only do you want to make classes fun, you also want to give your studio a vibrant look. Because the dojo is typically gray, most studios like this have truly little color. For your business, you can change that by having epoxy color flake floors installed using products like SunMetal FX and SunOne Polyaspartic.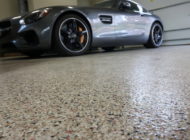 Epoxy color flake floors are epoxy floors with sparkling color chips added. That means the flooring system has a slip-resistant surface. In addition, epoxy floors are highly resistant to an assortment of things, including stains, impact, abrasions, chemicals, oil, and so on. If you allow people to have drinks in your Nashville martial arts studio, this will eliminate damage and messy cleanups.
The primary benefit of installing epoxy color flake floors in your Nashville martial arts studio is that in addition to choosing the base color for the epoxy, you can select the color of the chips. As you can imagine, that increases an already impressive list of options. If you follow a specific theme or color scheme at your studio, you could choose colors and chips that coordinate.
One of the more unique benefits of epoxy color flake floors is that because of the appearance, they will help draw potential customers inside. When people look in the windows of your martial arts studio in Nashville and see kids having a great time in a studio with gorgeous floors, they will want to learn more.
Keep your business fun and exciting. One simple change of transforming the floor is enough to make a significant difference. Because few martial arts studios have floors with shiny flakes, yours will stand out, giving you a competitive edge.