Interior Floors: Decorative Concrete is Here to Stay
Imagine a hot and humid day in Nashville, Tennessee. It can get pretty hot, even indoors, which is why concrete is an ideal material for floors. Concrete has the ability to keep a room cool. But if the plain, gray look of concrete is not in your little book of personal style preferences, then why not opt for decorative concrete interior floors? It has been a trend in the area and looks like it is here to stay for good.
Decorative Trends for Indoor Floors
Concrete staining is one of the simplest ways to enhance plain concrete floors. It is also an ideal solution to mask off ugly stains or concrete discoloration. Concrete stains come in two types: acid and water-based. Acid stain penetrates deep into the concrete so color chipping, peeling, or fading will never be an issue. It is also a reactive solution that produces an antiquated, variegated, or mottled look, depending on the chemical reaction that occurs between the metallic salt in the stain and the lime content of the concrete floor. Water-based stain, on the other hand, is non-reactive and only penetrates the surface of the floor. It produces more vibrant and consistent colors, perfect for meticulous floor designs.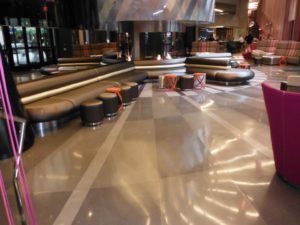 Epoxy coatings are often used on garage floors. It is known for its resistance to impact, abrasion, and most stains. This is only applicable for use indoors because it tends to turn yellowish when exposed to UV rays. The low porosity of epoxy makes it easy to clean. Spills wipe off easily and dust stays on the surface, ready to be swept.
Currently the most durable floor coating, polyurea polyaspartic used to be applied on industrial and commercial floors. It is super durable and resistant to damage. It is also known for its fast-drying property. It requires a professional concrete resurfacing installation because of its shorter pot life.
Ready to upgrade your floors? Call (615) 822-7134 today.
How lovely it would be to walk on customized concrete floors in the living room, kitchen, hallway, bedroom, garage, and all other rooms inside the house. Sundek of Nashville has been in the industry long enough to have the skill and expertise to provide concrete solutions to residential and commercial indoor floors. Feel free to get in touch with us through phone or e-mail. We'd love to give you more info and a free quote.