Concrete Staining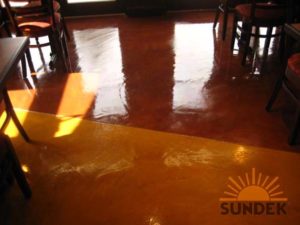 If you are looking for a quick, inexpensive way to bring color and class to your concrete slab, concrete staining is perfect for your home and commercial floors.
Stained concrete is ideal for any surface you want: on your patio, driveway or garage floors, or pool decks and walkways. The unique, multi-colored outcome enhances the overall look of your home, and makes it all the more inviting.


Understanding Non-Reactive and Reactive Stains
Non-reactive and reactive are the two types of concrete stain. Staining concrete adds tone and function. This concrete solution is available in dye or tint and sealer. The color components used in concrete paint are different from the particles used in staining.
Non-reactive concrete stain is made from water-based acrylic. Its properties do not require chemical process to yield color. Non-reactive particles are inserted into the concrete exteriors to produce color. The produced color is consistent and dense.
Reactive concrete stain is made from water-based acid stain with traces of metallic salt. The lime substance of concrete reacts with metallic salt to permanently adhere the acid stain to concretes. This process is commonly coined as acid stain. Acid stain solution is made from water-based acidic mixture, water and hydrochloric acid components. The application of yielding colors in these types of stain is different from the ones used by an ordinary concrete paint.
Ordinary stain colors are available in partial amount. They possess earth color scheme that includes brown, blue green, terra cotta and tan. Water-based stained concrete colors are available in a wide range of choices. Stain colors can be applied according to their components. They provide clear and stunning colored concrete.

Get One Step Close To Your Dream Home; Call Us!
Colored concrete stain produces results that are different from concrete paint. Concrete staining contractors and services are readily available here to serve you beautify and develop your Nashville property. Give us a call at (615) 822-7134 for more inquiries on our services!
Related Articles:
The Plus Side Of Stained Concrete
Acid Stain Colors
Water-based Stain Colors

SUNDEK OF NASHVILLE
(615) 822-7134