Concrete Resurfacing Cost in Nashville and the Surrounding Areas
How much does it cost to resurface concrete?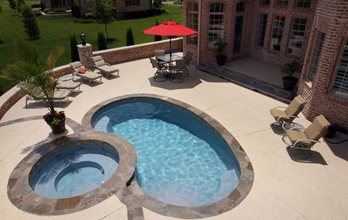 SUNDEK of Nashville resurfaced this backyard pool deck in Gallatin, TN.
For most homeowners and business owners, cost is one of the most important aspects of a project. It's understandable that our clients want to know how much concrete resurfacing costs. We wish we could give everyone a quick, standard answer, but the truth is that it depends on several factors:
Size of the project area
Condition of your existing surface
Which products you decide to use for your project
Design choices
Concrete resurfacing costs range from $3 to $25 per square foot. Minimum prices range from $850 to $3,500. To get the most accurate assessment, a contractor will need to visit your property to assess the site.
Contact us for a free quote
Is it better to tear out or resurface existing concrete?
If you have viable concrete (which means the integrity isn't compromised by damage such as severely deep and irreparable cracks), it is typically better to resurface. Here's why:
It's less expensive. When you resurface, you cut out the cost of tearing out your existing concrete and disposing of the broken concrete pieces. Skipping this step means you don't have to pay for the labor required to remove the concrete and any fees that come with material disposal.
It's more environmentally friendly. By using your existing surface, you avoid creating more waste that needs to be thrown away.
It's faster. Depending on the size of your property, demolition and material disposal can take at least a few days. On top of the time required for demolition, you'll also need to factor in the time it takes to pour the new concrete.
It's less messy. Demolition jobs are dusty to say the least, and sometimes dust and dirt from a demolition job lingers well after the job is complete. If you can skip this step, you can avoid the mess that comes with it.
It's important to note that SUNDEK will never resurface concrete that will not hold up. We want our coatings to last, and the best way to make that happen is to ensure a solid foundation.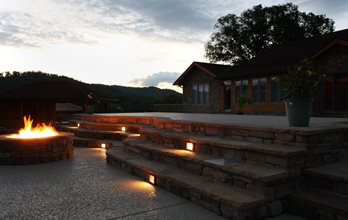 At this residence in Nashville, SUNDEK of Nashville resurfaced this patio area, creating a beautiful spot for the homeowners to spend time outdoors.
Why does it cost more to resurface concrete when it's damaged?
If your concrete surface has damage such as cracks, spalling, flaking, or uneven areas, those spots need to be repaired before resurfacing can occur. This ensures a reliable base for the decorative coating. Any repair work increases the cost of a project.
Is it less expensive to do spot repairs instead of resurfacing?
While you can choose to just do spot repairs, keep in mind that those spots might stand out from the rest of your surface. An experienced contractor that excels in concrete repair—such as SUNDEK of Nashville—will do their best to blend in the repaired spot with the rest of your surface. However, depending on the color and texture of your existing concrete, sometimes it's not possible to match it exactly. When we work with a client who has lots of spots that need repair, we typically recommend that they just resurface the entire area. In those cases, the cost of resurfacing is often comparable to resurfacing the entire area.
Here's a review from one of our customers, Frank M. Hampton, that speaks to the quality of our work on damaged surfaces: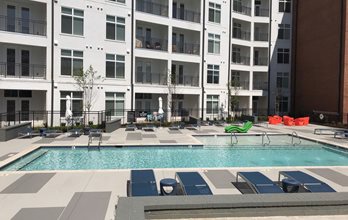 SUNDEK of Nashville resurfaced the pool deck, giving it a clean and modern look, at the Broadstone Stockyards, a luxury apartment complex in downtown Nashville.
SUNDEK of Nashville resurfaced my pool deck. I had some significant cracks and some deterioration in the concrete. They were able to come in and stabilize the concrete, while doing a fantastic job of resurfacing. You really can't see where any of the cracks were. They have a nice design on it, and all the cosmetics look nice.
Why does design affect the cost of a concrete resurfacing project?
The cost changes depend on what type of design you choose and how many colors you use because the level of complexity affects the amount of labor required for your project. For example, a detailed pattern with several colors will take more time to apply than a basic application that uses one color and a basic design. You can talk to your contractor about your design ideas and your budget to help determine what design will work for your project.
Get a free estimate for your concrete resurfacing project
The best way to get an exact estimate for your project is to have a contractor such as SUNDEK of Nashville come to your site for an analysis and to discuss your ideas.
We serve all of Tennessee and surrounding areas, including Paducah, KY; Bowling Green, KY; and Huntsville, AL. We'd love to help with your project!
Call us at (615) 822-7134
Fill out the form on this page
If you're located in a different area of the county, find a contractor near you.