At SUNDEK of Nashville, we have been installing indoor and outdoor floors at commercial properties since 1984. Our high-quality products can stand up to the wear and tear of commercial use. We have years of experience working on large commercial projects, so we can install a quality coating within your timeline and budget.
Contact us about your commercial concrete
Commercial properties we work with
At SUNDEK of Nashville, we are able to install coatings on commercial properties of any type. Here are just some of the types of properties we've worked with.
Waterparks
(Splash pads and pool decks)
Our coatings are slip resistant and cooler to the touch than plain gray concrete—they're beautiful, too! SUNDEK surfaces are also clean and non-porous, making them perfect for waterparks and other locations with pools or splash pads.
Hotels & Motels
(Entries, lobby floors, porte-cochères, pool decks, dining areas, and bathrooms)
In addition to needing floors that are durable and safe, we know that those in the hospitality industry also want floors that are beautiful. Let us help you come up with a design that your guests will admire.
Restaurant & Retail
(Dining spaces, kitchens, bathrooms, all restaurant flooring, and retail floors)
For owners of restaurants and retail spaces, it is critical that your floors are durable, slip resistant, beautiful, and easy to clean. We install floors that are all of those things.
Offices & Business Parks
(Courtyards, porte-cochères, lobbies, kitchens, break areas, bathrooms, office flooring, and vertical surfaces)
An office space that's nice to look at makes for happier employees. Let us help you out by installing a beautiful, durable surface that's easy to clean.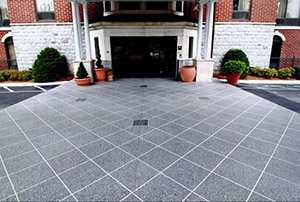 Contact us about your commercial concrete project
Healthcare, Schools & Churches
(Laboratories, bathrooms, meeting rooms, waiting rooms, hospital floors, and congregational spaces)
Healthcare facilities, schools, and churches all serve different purposes, but they do have one thing in common—they serve a lot of people. SUNDEK of Nashville can help you get a beautiful floor that can withstand the wear and tear it'll face from all the people, equipment, and more.
Industrial Flooring
(Warehouses, airport hangars, shop floors, and storage facilities)
Our epoxy and polyaspartic floors can withstand oil spills, the weight of heavy machinery, and more. Since they're non-porous, it's easy to wipe up spills, making them perfect for industrial spaces.
Apartments & Condominiums
(Pool decks, common areas, lobbies, entries, playground surfaces, and gym flooring)
Surfaces need to be durable and safe in shared living spaces. SUNDEK coatings are both of those things—but they're also beautiful. Let us know what type of design you'd like at your property, and we can help make your vision a reality.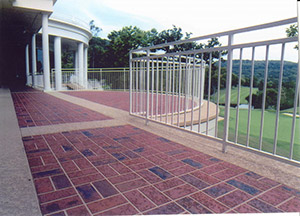 Military & Government
(Pool decks, training facilities, and more)
At SUNDEK of Nashville, we have experience installing coatings in spaces ranging from restrooms to airport hangars. We work collaboratively to make sure your project is completed within your desired timeline and budget.
Parks, Clubs & Municipalities
(Playground surfaces, pool decks, and gym flooring)
We can create a beautiful, durable, slip-resistant surface for community use—whether it's indoors or outdoors.
Vertical Applications
(Retaining walls, planters, and building walls)
Just about any of our designs on the ground can also be done on walls, transforming the vertical surfaces around you. Design options are limitless for retaining walls, sides of buildings, and more.
Contact us about your commercial concrete project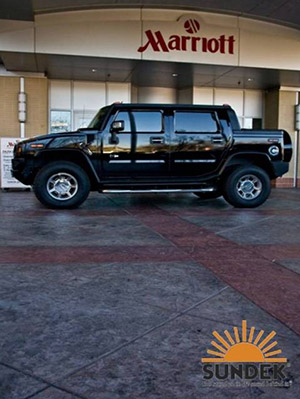 Commercial concrete services we offer
Acrylic finishes
Concrete sealing
Epoxy coatings (indoor floors)
Textured overlays (outdoor surfaces)
How long does it take to complete a commercial project?
The length of time it will take to complete your project depends on several factors: the size of the surface, the state of your existing concrete, and the type of design you're looking for. One thing we can promise: we work efficiently and diligently to ensure your project is complete by the agreed-upon completion date. Contact us to get an estimate of how long your project will take.
Commercial concrete design options
The sky's the limit when it comes to designing your surface with SUNDEK of Nashville. We have a wide variety of colors, patterns, and textures to choose from. If there's a particular look you like such as brick, cobblestone, limestone, or any other material, we can mimic that look with concrete (and it'll cost a fraction of the price of the actual material).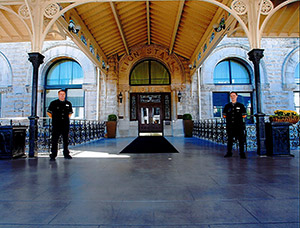 What is maintenance like?
Our clients say that their maintenance staff is often surprised at how easy it is to maintain a SUNDEK surface. For one, our sealers make our surfaces non-porous, so it's easy to wipe up spills. Sealers also protect it from many other things such as flaking, fading, freezes, and more (see additional information about sealers here).
General maintenance includes removing dirt and other debris with a broom or blower and moping or hosing off the surface as needed.
Contact us about your commercial project
We'd love to help with your commercial project. Contact us in one of the following ways so we can get started.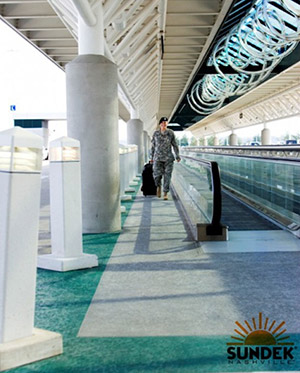 Call us: (615) 822-7134
Email us: [email protected]
Or fill out the form on this page
We serve all of Tennessee and surrounding areas, including Paducah, KY; Bowling Green, KY; and Huntsville, AL.