SUNDEK of Nashville is a nationally recognized decorative concrete resurfacing company that has been servicing Tennessee and the surrounding states since 1984.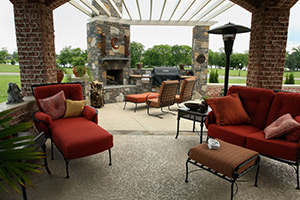 What types of clients does SUNDEK of Nashville work with?
We do work at both residential and commercial properties, notably the Gaylord Opryland Hotel, the Nashville International Airport, and national chains such as Marriott and Holiday Inn. (You can get more information about our commercial services by visiting our Commercial page.)
What type of work does SUNDEK of Nashville do?
Why work with SUNDEK of Nashville?
One of the reasons we are a trusted contractor in the area is because of our depth of knowledge that comes from our experience serving thousands of customers in both residential and commercial spaces. Many of the employees that work at SUNDEK of Nashville have between 10 to 24 years of experience in the concrete repair and resurfacing industry. Our installers have been through professional training, which means we bring a high level of consistency to every project.
We have an A+ rating with the Better Business Bureau.
See what some of our customers have to say.
Award-winning work
Here are just two of our award-winning projects.
Products
We only use SUNDEK products, which are renowned for being the best in the industry. SUNDEK developed our most popular product, Classic Texture, in 1970. Since then, SUNDEK has developed and perfected many other products, which are all customizable to meet the needs of our clients. See our products and systems.
Contact us about your project
We'd love to help with your resurfacing project. Contact us in one of the following ways so we can get started.
Call us: (615) 822-7134
Email us: info@sundek.com
Or fill out the form on this page
We serve all of Tennessee and surrounding areas, including Paducah, KY; Bowling Green, KY; and Huntsville, AL.
Working with us is easy…here is our process.
Having completed several hundred projects over the past 30 years. We are experienced professionals, and our commitment to prompt and accurate work has earned us a exceptional reputation in the industry. From revitalizing industrial laboratories, warehouses, pharmaceutical facilities and kitchens, we are equipped to handle a range of services while adhering to local code enforcements and industry standards.
The Industrial Flooring Process
Step 1: Appointment for Inspection
Our team of experts always strive to exceed customer expectations through detail-oriented and diligent work. Once you contact us, we send out one of our professionals to visit the area for inspection and get a condition report and design consultation, all for free. After we identify your particular needs, we will explore all possibilities and offer variable solution options in price, quality and efficiency for you to choose from. If you are interested in adding value to your industrial space by upgrading it then you can get in touch with us.
Step 2: Pre-Inspection and Logistics Agreement
Once we reach an agreement over the project, we carry out a pre-inspection onsite and go over the logistics and timings for the application with you. At this time, we will also go over access to the area, power sources available and needed for the equipment to be used and schedules, so we can better accommodate onsite staff and cause the fewest possible interruptions to regular operations.
Step 3: Property and Environment Protection
We respect your property and environment. Therefore, as part of any project we undertake, we ensure that appropriate measures are taken to protect the surrounding areas and leave them as found. We protect the work area from color, dust and debris so there is no need for you to clean up when we are finished or worry about damage to your property.
Step 4: Surface Preparation
Surface preparation is essential in all industrial concrete coating installation, repair and resurfacing projects. The surface prep has to be done properly by providing the proper surface profile and removal of any substrate with questionable integrity because it will impact the performance and durability of the system to be applied. We have effective techniques in place to ensure that the surface is ready to receive our systems by either grinding, shot blasting, scarifying or chemically cleaning properly.
Step 6: Coating Installation
As per the schedule and agreement, we install primers and coatings to the surface for protection and to enhance its overall appearance. The installation of these systems are all performed to manufacturer's specifications. Some of the solutions we provide are:
-Epoxy Flooring and Mortars System: With access to most major quality brands, we use top of the line epoxy products. From thin mil coatings to 1/4″ mortars, for light traffic to aggressive impact and abrasion resistance. With our experienced staff, we will select the proper products to deliver a durable and appealing floor.
-Urethane coatings and Mortars: We use some of the best developed and toughest urethane coating systems in the industry. Our systems provide high performance and are known for their heavy duty wear resistance. Where epoxies fail, urethane coatings are the perfect alternative and in addition to high impact and abrasion benefits, they can withstand heavy traffic, provide better scratch resistance and are UV stable. Urethane mortar flooring on the other hand will provide better breathability and is thermo shock resistant unlike epoxy systems.
-Polyaspartics: these modified polyureas are ideal for fast track applications when quick turn around is required. Polyaspartics contain similar chemical and abrasion resistance properties to epoxy's and polyurethanes, with addition of aesthetics; polyaspartic is another option for a durable concrete floor solution.
-Vinyl Esters: Our vinyl esters are of high performance for concrete where superior chemical resistance is required. The products we use are suitable to containments units and areas subjected to high caustic fumes.
-Densifiers: our densifier hardens concrete surfaces and is a dust proofer. It increases surface density while enhancing cleanability and maintenance.
Step 7: Delivery of area back to service
Once we finish the above processes, we clean up the area and deliver it back to you for regular use. Lastly, we go into the final walk through to ensure everything was addressed and precisely to your and our standards.