Let SUNDEK of Nashville help transform your patio into a beautiful, durable space where you can entertain family and friends. SUNDEK surfaces are slip resistant, easy to clean and maintain, and can be customized to fit your preferred style.
Request a Free Estimate
Do I have to rip out my existing concrete patio?
No. The beauty of resurfacing is that we can apply a coating to the top of your existing surface. We then customize that coating to give it a look you love. Resurfacing saves you the hassle and mess of having to demolish your existing concrete and start from scratch—it's also less expensive!
How much does it cost to resurface concrete?
What if my patio is cracked or has other damage?
Not a problem! At SUNDEK of Nashville, we're experts in concrete repair. We can repair cracks, spalling, flaking, fading, and other types of damage to your concrete. If your surface is uneven, we can even resolve that. We'll analyze the damage and determine how to prevent it from happening again on your newly resurfaced patio.
Are decorative coatings slippery?
One of our priorities is to make sure your surface is safe to walk on. SUNDEK products are formulated in a way that makes them resistant to becoming slippery. We also texture our surfaces in a way that prevents them from getting slick when wet.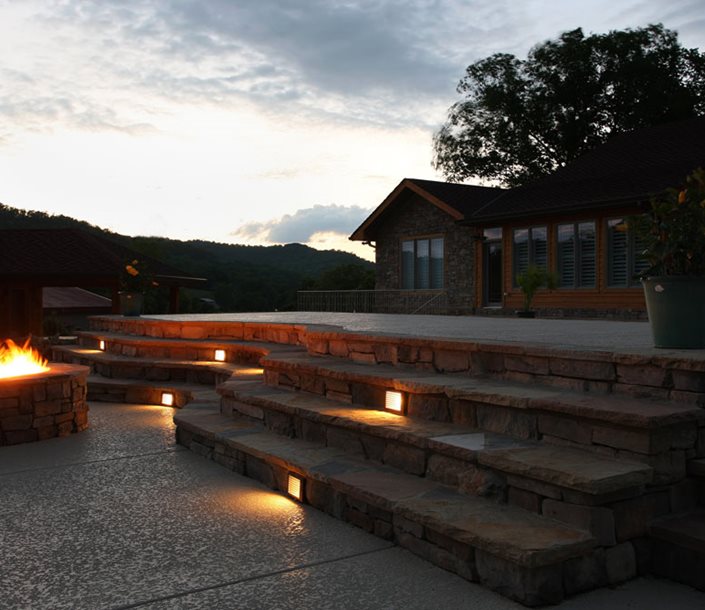 When resurfacing a patio, what are the design options?
Our concrete coatings allow us to create virtually any look or design. Colors range from bright, bold colors to subtle neutrals and everything in between. There are also a variety of patterns and textures to choose from. If there's a particular look you like such as brick, cobblestone, flagstone, or other material, we can mimic that look using stamped concrete. We can customize colors with our stained concrete options so you can get exactly what you want.
We can apply coatings to all concrete surfaces, so we can create matching or coordinating designs on your backyard pathways or retaining walls. We look forward to helping you make your vision a reality!
Get more patio makeover ideas.
Contact Us About Your Patio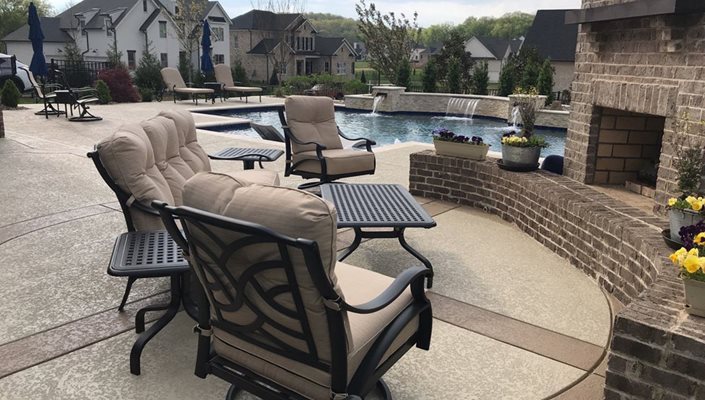 Maintenance for patio coatings
Maintaining a SUNDEK surface is surprisingly easy. To keep it in the best shape possible, you'll need to have it sealed. At SUNDEK of Nashville, we use high-quality sealers to finish our projects. The sealers protect your decorative concrete from flaking, general wear and tear, elements such as UV rays, rain, snow, dirt, and more. (You can learn more about the importance of sealers here.)
General maintenance includes removing debris from the surface using a blower or broom. You'll also want to wash off dirt using a hose or pressure washer. For stains that are hard to remove, you can use a non-abrasive commercial cleaner. Learn more about maintenance here.
Contact us about your patio resurfacing project
We'd love to help with your patio project. Contact us in one of the following ways so we can get started.
Call us at (615) 822-7134
We serve all of Tennessee and surrounding areas, including Paducah, KY; Bowling Green, KY; and Huntsville, AL.
Request a Free Estimate