At SUNDEK of Nashville, we specialize in pool deck resurfacing. We have been resurfacing pool decks at residential and commercial properties since 1984.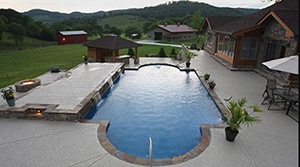 See more pictures of pool decks here
Contact us about resurfacing your pool deck
Why work with SUNDEK for pool deck resurfacing?
We're committed to providing high-quality service from the moment you begin working with us. Our installers are up to date on the best practices and processes for installing pool decks, and we use the best products in the industry. We also pride ourselves in maintaining constant communication with our clients throughout the installation process so that we stick to their budget and timeframe, and they are pleased with the result.
Do I have to tear out my existing pool deck?
No! Concrete coatings go on top of your existing concrete surface, so you can skip the mess and hassle of a demolition job.
Can you put a pool deck coating on top of damaged concrete?
Yes! In addition to resurfacing concrete, we are experts in concrete repair. We can repair your existing surface, whether it's cracked, spalling, chipping, fading, or has any other damage. We can then resurface your concrete so the entire pool deck looks brand new. Additionally, we will analyze the damage and determine how to prevent it from happening again.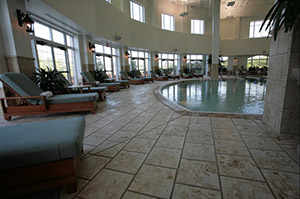 Contact us for a free estimate
Is a SUNDEK surface comfortable to walk on?
Yes. The textures we use not only make your pool deck look stunning—they also serve to make the surface more comfortable. A SUNDEK surface stays much cooler than plain gray concrete so you won't burn your feet. We also recommend choosing a light color that will absorb less heat than darker colors.
Can I resurface my pool deck myself?
While DIY resurfacing is possible, we highly recommend hiring a licensed professional such as SUNDEK of Nashville to install your pool deck coating. We have years of experience, so we know the common pitfalls to avoid and best techniques to ensure to a beautiful finished project. Thorough surface preparation is necessary, and skipping any steps will result in errors in application. We also have the ability to customize your designs with things like aggregates, custom colors, etc.
What is the most popular coating for pool decks?
Many of our customers choose Classic Texture for pool decks. It's the first product SUNDEK developed in 1970 and is responsible for completely transforming the decorative concrete industry. Classic Texture helps keep the surface cooler and makes it slip resistant.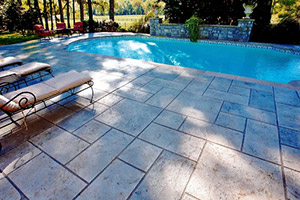 What type of design options are available with SUNDEK?
When coming up with a design for your pool deck, the sky is the limit! At SUNDEK, we have many colors, textures, and patterns to choose from. We have even created custom designs and colors for clients looking for something original. Our recommendation is to find pictures of designs you like. Show them to us, and we can help make your vision a reality.
What is maintenance like on a SUNDEK pool deck?
Maintaining your surface starts with a high-quality sealer. At SUNDEK of Nashville, we always finish our pool decks with a sealer that protects it from everything ranging from UV damage to overspray from a nearby sprinkler. Learn more about the importance of sealers.
General maintenance includes removing dirt and debris from the surface at least every few weeks. To remove debris, you can use a broom, mop, hose, or pressure washer. For stains, you can use a non-abrasive commercial cleaner. See more about maintenance here.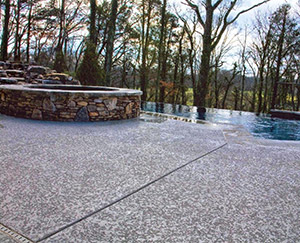 Contact us about your pool deck resurfacing project
We'd love to help with your resurfacing project. Contact us in one of the following ways so we can get started.
Call us: (615) 822-7134
Email us: info@sundek.com
Or fill out the form on this page
We serve all of Tennessee and surrounding areas, including Paducah, KY; Bowling Green, KY; and Huntsville, AL.