Garage Floors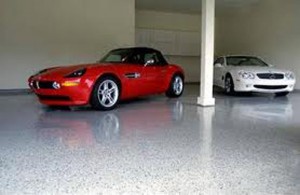 When planning a house, homeowners often overlook the importance of garage floors. More often than not, it is made of a low-quality material for the simple belief that it would be exposed to terrible use and abuse so why invest in a more expensive floor, right? The truth is that the garage needs to be planned with great care just like you would the other areas of your home. The fact is that you don't have to spend an exorbitant amount of money just to make the floor look and function a lot better than it should.
ontact us about your garage floor
Common Garage Floor Issues
As a general tradition, a garage is meant for parking your car, storing hazardous chemicals, unused items, and a place to do a lot of dirty work, like woodwork and car repairs. Because of the heavy tasks that it has to endure, garage floors often experience a lot of damage, such as:
Cracks – It is almost a common occurrence for concrete surfaces to crack. This is because it does not have enough flexibility to expand. Garages are susceptible to the same damage. In fact, the weight of a vehicle, and all the other items it supports, make the issue a lot more common and a lot worse.
Stains – Motor oil, chemicals, paint, and more. These are just some of the common stains you will find on a garage concrete floor. You can try to clean them up as soon as they come in contact with the floor but it can be very difficult to get them all out as concrete is a very porous material.
Pits and Chip-offs – This often happens when you drop something hard and heavy on a floor. The result is a part of the concrete chipping off, leaving an ugly pit that makes your floor unsightly and uneven.
Who says a garage floor has to be ugly? Check out these inspiring photos of garage floors.
Ideal Garage Floor Coatings
There are two highly recommended decorative concrete sealing materials for garage surfaces: Epoxy Flooring and Polyurea Polyaspartic. Both are highly durable for floors that go through heavy use. Polyaspartic and epoxy flooring garage are easy to clean and requires minimal maintenance. Also, it can be customized with microchips or stains to make it a lot more presentable and eye-pleasing.
Want to know more about garage floor coatings? Call us at 615-822-7134!
We at Sundek of Nashville know how important a garage is for you, that is why we made sure that we have durable and affordable options for you to make your garage flooring look better and last longer. Our company is nationally recognized and our experience in the industry goes as far back as 1984. Give us a call or send us an email! Our friendly staff will be more than happy to make your garage floor dreams come true.