Garage Floor Resurfacing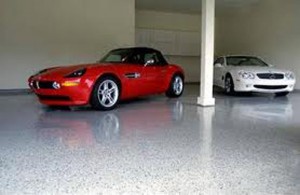 Garage floors are often overlooked when it comes to home improvements. People often can't fathom investing in an expensive floor for a room that will be exposed to tires, heavy machinery, spills, and tools. But in reality, you don't have to spend an exorbitant amount of money to get a garage floor that looks better and functions better than an average garage floor.
At SUNDEK of Nashville, we have been installing beautiful and functional garage floors in the area for many years. Learn how we can help transform your garage floor into a durable, safe, low-maintenance surface that's also nice to look at.
ontact us about your garage floor
What kind of material is good for garage floors?
Epoxy and polyaspartic coatings are the best materials for garage floors for the following reasons:
They're durable. In addition to being able to withstand the weight of cars and other heavy machinery, they can also handle it when tools are dropped on their surface. If they're well taken care of, epoxy and polyaspartic floors will last for years to come.
They're low maintenance. Since epoxy and polyaspartic coatings are resistant to moisture and stains, cleaning them is relatively straightforward. You can sweep and hose off the floor as needed to keep it looking tidy. Since they're nonporous, cleaning up spills is easy—just wipe them up with soap and water when they occur. If you have a spill that's been sitting for awhile that causes a stain, you can use a diluted ammonia solution or a commercial cleaner that's specifically formulated for your surface.
They're beautiful Epoxy and polyaspartic coatings give you the functionality and can be made to look beautiful—so why not customize them to give them a look you love? While you have the option to stick with various shades of gray, you can also choose from a wide variety of colors. Coatings give you the opportunity to get creative, too. With SUNDEK epoxy and polyaspartic products, for example, you can add quartz beads, metallic flakes, colored glass, and even create a mirror-like finish. With the customization options, the design possibilities are endless.
Check out these inspiring photos of garage floors.
SUNDEK garage floor coatings
SUNDEK has several options for garage floor coatings.
SunEpoxy54 (epoxy): Perfect for spaces like residential garage floors or locations where light manufacturing occurs.
SunEpoxy100 (epoxy): Good for spaces that see a lot of traffic and experience heavy manufacturing.
SunOne (polyaspartic): For customers who need a quick turnaround time. Even though a job can be completed quickly with SunOne, it's still extremely durable.
SunMetal (used with any of the products list above): Can be used to create a smooth finish that can be made to look like marble, moon craters, or a lava lamp.
How much does it cost to redo a garage floor?
The cost of applying an epoxy or polyaspartic coating to your garage floor depends on several things: the size of your garage, the condition of your existing concrete slab, and what design you want (for example, do you want additives or a metallic finish?). The best way to get an accurate estimate is to contact a contractor such as SUNDEK of Nashville.
Can I epoxy my garage floor myself?
Before you embark on the task of applying an epoxy or polyaspartic coating to your garage floor yourself, know that it's not a simple DIY. Though it can be done, it requires meticulous attention at each step. For example, if you don't mix the material properly before application, you may end up with soft spots on your floor. If you haven't properly cleaned the surface, you may end up with bubbling or cracks in the coating.
If you do decide to do it yourself, be sure to do thorough research and read the product instructions carefully.
An experienced contractor such as SUNDEK of Nashville knows what common pitfalls to avoid and the best strategies to get the best result. A local contractor will also know what types of weather conditions are best for installation—and which conditions lead to difficulty in application.
Can you epoxy a damaged surface?
Even if your surface is dusting, spalling, cracking, or showing other signs of damage, you can still have an epoxy coating applied. You or the contractor you hire will need to fix the damage before applying the coating. If you are hiring a contractor, it's important that they inspect the extent of the damage before they begin the project. Be sure to seek out a contractor with experience in concrete repair such as SUNDEK of Nashville.
Before epoxying your floor, it's important to determine what caused the damage so you can prevent it from happening again. Here's some of the common types of damage people get on their garage floors and what causes it.
Dusting: Large amounts of traffic can cause dusting and powder to build up on top of a concrete slab. This problem can also occur when the concrete wasn't mixed properly when it was poured.
Spalling (also known as scaling): When you see concrete that's flaky and rough, that's spalling concrete. Minor spalling causes cosmetic problems, and major spalling can cause structural problems. It's important to address spalling because it can cause serious damage to the concrete slab at your house.
Cracking: Cracks range from minor, hairline fractures to large, problematic gaps. Cracks occur due to a variety of things, including errors when the concrete was mixed or poured.
In addition to fixing the damage, an experienced contractor such as SUNDEK of Nashville can assess your site to determine how to prevent future damage. We'll also assess the damage and provide suggestions for how to prevent it from happening again.
Are epoxy garage floors slippery?
As long as non-slip additives are included during the installation of an epoxy or polyaspartic coating, they will not be slippery. A reputable contractor will already be planning to create a surface that's not slippery when wet, but for your own safety it's important to discuss this topic during the planning phases.
Contact us about resurfacing your concrete
We serve all of Tennessee and surrounding areas, including Paducah, KY; Bowling Green, KY; and Huntsville, AL.
Call us today at (615) 822-7134