Splash Pad & Waterpark Coatings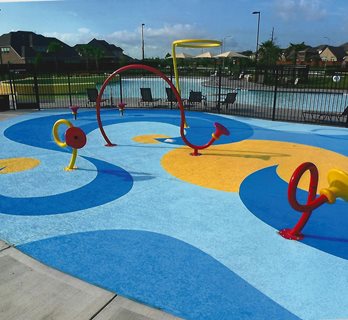 More Pictures of Waterparks & Splash Pads
Here in Nashville, having a place to cool off during our hot and humid summers is a must. That's why we love installing beautiful splash pads (sometimes called water playgrounds or splash parks) for our clients!
Benefits of a splash pad
Many of our clients want a splash pad in addition to their pool while others want one instead of a pool. For safety reasons, the fact that they're zero depth makes them a desired addition to outdoor spaces where small children will be playing.
Related: Pool Deck Resurfacing
Contact us for a quote
Where can splash pads be installed?
Splash pads can be installed in a variety of outdoor spaces. Here are some of the locations we've installed them:
Apartment and condo complexes
Community centers
Hotels — Motels
Parks
Resorts
…and more!
Are splash pads safe?
At SUNDEK of Nashville, safety for our clients and their guests is a priority. We are experienced in installing surfaces in spaces with the combination of water and lots of foot traffic, as we install pool decks at waterparks, hotels, community centers, residences, and other locations. We only use SUNDEK products, which are specifically designed for people to walk on. We texture the product in a way that makes it resistant to slip-and-fall accidents.
Design options
With SUNDEK products, there are a multitude of colors and patterns to choose from. If you have something specific in mind, we can make it happen. We love making our customer's visions a reality! If you need ideas, check out our photo gallery of splash pads.
Contact us about resurfacing your concrete
Call us today at (615) 822-7134
Or fill out the form on this page
We serve all of Tennessee and surrounding areas, including Paducah, KY; Bowling Green, KY; and Huntsville, AL.