Knock Down Finish for Pool Decks
A spray knockdown finish is an ideal solution for resurfacing a pool deck that is old and damaged. When it comes to real estate, a pool area is almost always a common sight in Nashville, Tennessee. It is also common for these to have concrete pool decks. Some top it off with tile while some leave it as it is. While both are durable, both can get very slippery especially when wet.
This is what a spray knockdown texture aims to resolve. It features a spray texture that dramatically enhances the grip of shoes and bare feet on the pool deck. It is highly recommended for updating and repairing outdoor concrete surfaces, including driveways, front entryways, walkways, and patios. Now, that is versatility at a friendly cost.
Contact us for a free quote
Why Choose a KnockDown Finish?
There are many different pool deck texture coatings available. Each one has their pros and cons. So, why should this knock-down finish be an ideal option?
Slip-resistant - The trowel finish creates a texture that improves traction. Even wet bare feet would be able to walk comfortably on the surface without slipping or falling.
Appealing - Who wouldn't want a gorgeous pool deck area? A knockdown texture on concrete that has been sprayed and knocked down is similar to stucco. The difference is that it features more subtle grooves and dips. It also comes in a wide range of colors.
Cool Surface - Concrete that has been under the sun for hours is difficult to walk on, especially with bare feet. This pool deck knock down finish has the capability to keep the surface 30% cooler than most materials.
Affordable - Updating or repairing a pool deck would cost a fortune if it involves slab removal, concrete replacement, or high-end topping materials like tile, stone, or pavers. The acrylic concrete coating, on the other hand, requires just a thin layer, a few installers, and the existing concrete pool deck.
Durable - Although only a thin layer is needed, the material is durable enough to stay in place and protect the slab underneath from external damage.
Easy to Clean - Not everyone has the time to clean pool decks meticulously. A knock-down finish requires minimal cleaning and maintenance, perfect for busy homeowners.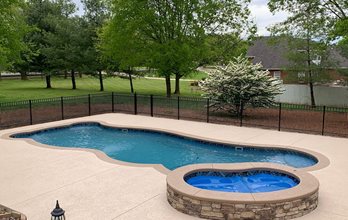 Ready to enjoy a spray knockdown finish?
Call 615-822-7134 for more info.
When it comes to spray-down concrete resurfacing, you can trust Sundek of Nashville. We have been servicing both residential and commercial locations in the Nashville area since 1984. We specialize in resurfacing concrete pool decks with a spray knockdown finish and we take pride in our work.
Have questions? Need a quote? Call or email us today. Let's talk about your dream pool deck and the range of options that we offer.
Call us at (615) 822-7134