Stained Concrete
At SUNDEK of Nashville, we have been staining concrete at residential and commercial properties since 1984.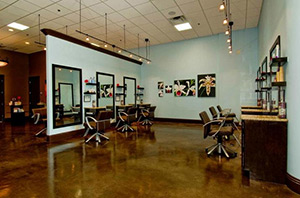 With staining, you can get beautiful, durable floors in the color of your choice. In addition to being eye-catching and lasting a long time, stained concrete floors are also easy to maintain.
Contact us for a quote on your stained concrete project
Do I have to choose one color for my stained concrete?
No. Options are limitless when it comes to color. It's fine to choose one color, but you can also use a combination of colors laid out into a pattern of your choice. Just let us know what you have in mind, and we'll tell you how to achieve that look.
What staining options does SUNDEK of Nashville offer?
We offer a variety of staining options, and the right product for your project depends on what look you want. To get an overview of what we offer, watch this short video and read the descriptions of each product below.
SUNDEK staining products
Here's an overview of our three staining products.
SunAcid. An acid-based stain that provides a variety of earth tones. Allows you to create a translucent marbled effect.
SunH2O. A water-based stain that provides vibrant colors ranging from opaque to translucent. Since it's water based it doesn't etch the surface, but it still has adhesive properties that make it last a long time. Because you can layer and combine colors, there are a wide variety of color options available. This is a good option for people with allergies or sensitivities that properties of acid-based stains can sometimes activate.
SunDye. Soluble in acetone or water. Combine with acetone to get a darker, monotone look. Combine with water to get color variation. It can be used with SunAcid for more color options.
Can damaged concrete be stained?
Yes! In addition to all our other services, at SUNDEK of Nashville we are experts in concrete repair. We can fix your concrete—whether it's cracking, spalling, fading, chipping, or has any other type of damage—and then we can stain the entire surface so it all blends together nicely. You won't be able to see where the previous damage was. We'll also assess the damage and determine how to prevent it from happening again on your new surface.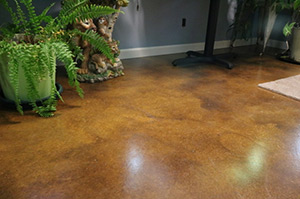 Can I stain my concrete myself?
While it's possible to stain concrete yourself, we advise working with a professional, experienced contractor such as SUNDEK of Nashville. Our many years of experience in staining concrete means we're knowledgeable about how to make sure your surface turns out exactly the way you want. We know the common pitfalls to avoid, and since we've worked in the Nashville area for so long, we also know the best weather conditions in which to stain concrete. We can also combine staining with stamping to create a look you'll love.
Contact us for a quote on your stained concrete project
Is stained concrete hard to maintain?
No, maintenance for stained concrete floors is straightforward. At SUNDEK of Nashville, we always seal our indoor and outdoor floors with a high-quality sealer. The sealer protects it from everything ranging from UV damage to general wear and tear. (Learn more about the importance of sealers.)
General maintenance includes removing dust and debris with a broom, blower, mop, hose, or pressure washer. For stains that are hard to remove, you can use non-abrasive commercial cleaners that are intended for use on stained concrete surfaces. See more about maintaining SUNDEK surfaces.
Contact us about your stained concrete project
We'd love to help with your stained concrete project. Contact us in one of the following ways so we can get started.
Call us: (615) 822-7134
Email us: [email protected]
Or fill out the form on this page
We serve all of Tennessee and surrounding areas, including Paducah, KY; Bowling Green, KY; and Huntsville, AL.