Top 6 Pool Deck Material Options for In-Ground Pools (with 1 bonus option!)
When resurfacing a pool deck, it can be quite stressful to figure out the details. There are important things to consider like maintenance, aesthetics, and cost. To help you out, here is a short list of the most popular materials used for in-ground pool decks. Read on to gain information about each one and, hopefully, find the one that is just right for you.
Concrete can easily be molded into any shape. It provides a smooth surround around the pool. Nowadays, concrete can come in various colors aside from the utilitarian gray that it usually comes in. However, some architectural concepts, such as mid-century modern or contemporary, require and feature the raw look of concrete. It is highly recommended to have a professional pour and install a concrete pool deck to make sure that it is properly mixed, laid out, and leveled. You can even have it stamped, stained, and more.
[templatic_button link="/contact-us/" size="large" type="primary"] Contact us about resurfacing your pool deck [/templatic_button]
Brick is one of the most timeless materials in the history of man. It has been in use for over 5,000 years and it manages to stay on any top lists, be it for pool decks, patios, driveways, and more. Although the most common color is red and terracotta, brick is now manufactured in a wider range of colors.
Pavers are popular for use on outdoor surfaces. It comes in a wide range of sizes and shapes. It comes in a limited variety of colors, making it possible to create decorative patterns upon installation. Interlocking pavers are a highly popular material today because these are designed to resemble granite, brick, cobblestone, and other pavement materials.
Wood is more common on above-ground pool decks but it is also ideal for use on in-ground types. Planks of wood are put together to create a rustic yet luxurious lounging area around the pool. This requires careful planning and you need to make sure that you choose a wood type that could endure outdoor elements and frequent splashes of water. A good sealer is also needed to seal off the grains and to keep water from penetrating the material.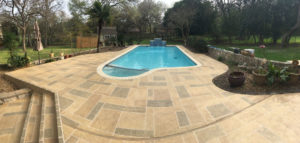 Colored concrete around a pool deck
For natural-looking pool decks, stone is always the number one choice. It features random colors and patterns that look stunning. It has enough texture, making the surface non-skid enough for safe walking. Natural stone enhances any architectural feature or landscape effortlessly. Flagstone is one of the most popular types because it is almost flat enough for use on pool decks.
Now, this is not the tile often used in baths and kitchen sinks. Tile for pool decks need to be textured and slip-resistant. The best type of tile for pool decks is the unglazed terracotta. There are other options, make sure to consult an expert to help you find a proper tile for outdoor use.
Grass is a common deck for backyard swimming pools. However, not everyone is fond of having to step on grass barefooted especially after coming out of the pool. Also, grass can be a source of dirt and debris and it requires higher maintenance than other pool deck materials. The alternative? Fake grass. This is a sustainable option that gives the natural look of real grass but with the addition of water conservation. Since it is fake and does not grow, maintenance is also kept to a minimum.