Epoxy Flooring Nashville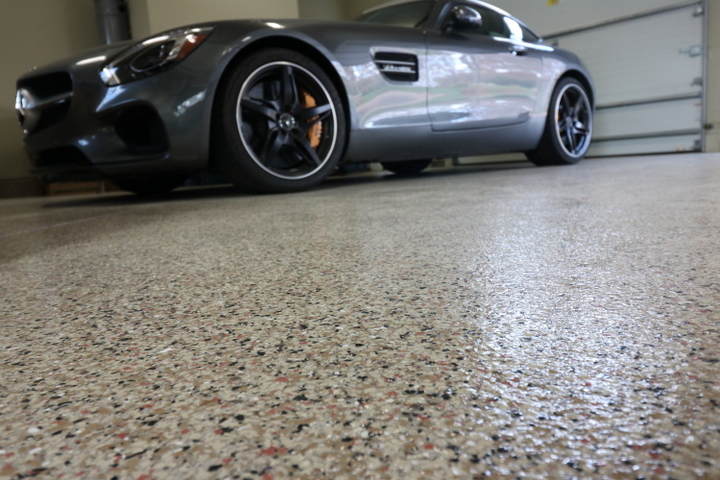 Flooring is one of the areas of a house or commercial space that requires great consideration, especially when it comes to choosing the right concrete flooring options. It needs to be beautiful enough to look at while also being strong enough to endure heavy traffic. Without proper planning, it could easily become ugly and damaged in a short span of time. You would not want that especially on a garage or commercial property, would you?
Get a free epoxy flooring estimate
Concrete Paint, Coating, or Flooring?
Epoxy is a material that you can rely on, however, it can be quite confusing as to what exactly we are referring to. You have probably been in a hardware store or just browsing in front of your computer and found yourself baffled by the many different garage floor products you see. Let's clarify this first before we move on, shall we?
Epoxy Paint – There are certain paints that have epoxy incorporated in them to increase adhesion and durability. These are called one-part epoxy paints. So make sure to ask and verify the type of product you are planning to purchase.
Epoxy Floor Coating – This is a residential or commercial floor coating that goes on top of floors, colored or clear, to keep it protected from damage and abrasion. Many manufacturers noticed that consumers often call it "epoxy paint" so some actually changed their product name to make it more noticeable to customers, thus, creating a confusion between the floor coating and the paint product.
Epoxy Flooring – This is a two-part epoxy that is mixed and applied thick on existing indoor concrete slabs to customize it and make it tougher. This is one of the best cement floor finishes, especially for commercial surfaces, because it is stronger than others.
Why Choose an Epoxy Floor Finish for Garages & Commercial Spaces?
In the business industry, it is very important to make your indoor space as attractive as it could be without compromising its durability. A commercial car showroom, for example, needs to look good enough to make people want to walk in that place but also strong enough to accommodate cars on display and the people walking in and out. Whether you are looking to improve your business or have garage flooring ideas for your home, check out why this is an ideal option for you:
It is hard and durable enough for foot traffic, vehicles, and heavy equipment or machines.
It can be applied on existing slabs, thus, saving you time and money.
It can be applied clear or customized with color, stains, or chips.
It is a cheaper alternative to more high-end flooring products.
For many of the same reasons, epoxy is also a great choice for industrial flooring.
We Install Epoxy Floors in These Areas
Nashville, TN
Memphis, TN
Murfreesboro, TN
Knoxville, TN
Chattanooga, TN
Huntsville, AL
Bowling Green, KY
SunOne-Epoxy Flooring Installation
Reliable Flooring Contractor
It is important to choose a contractor who has the knowledge and experience on how to apply epoxy on floors because it has to be done fast before it starts hardening and curing. Take your first step now and give us a call. Let us be your first (and best!) choice for all your concrete flooring needs.
Contact us about installing epoxy flooring
We serve all of Tennessee and surrounding areas, including Paducah, KY; Bowling Green, KY; and Huntsville, AL.
Call us today at (615) 822-7134