Sundek Corporation
There aren't many who can say they helped start and shape an industry.
Since 1970, when brothers from Southern California invented it, SUNDEK has been the foremost experts in decorative concrete resurfacing. They've resurfaced everything from airports to carports… Five star hotels to two bedroom homes. SUNDEK transforms your visions into reality with colors, textures and design combined with the economy, durability and strength of concrete. They stand behind every SUNDEK surface so that you can stand on it …for years to come.
Sundek of Nashville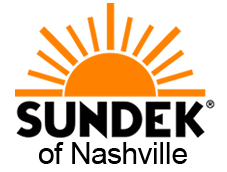 Sundek of Nashville installs a variety of products such as:
Sundek Classic Texture – This signature product offers a unique decorative effect for concrete surfaces such as pool deck, patios and driveways. It has unlimited color choices and outlines, very easy to maintain, and it provides an exterior surface that has a lower temperature than most concretes. It is capable of producing coating results that are slip-resistant.
Stamped Concrete Overlay – Stamped overlays can be designed in a form of stamping or imprinting on concrete. It is capable of concealing existing defects or blemishes on the surface. Stamped concrete can produce the accurate copy of fieldstone, brick, slate, and cobblestone, even to the point of replicating the exact quality and shades of these stones.
Stained Concrete – Concrete staining is ideal for your home or commercial floor if you are looking for a quick and inexpensive way to bring color and class to your existing concrete slab. This is ideal for any surface you want: on your patio, driveway or garage, pool deck, and walkway.

Epoxy Flooring

– There are two types of epoxies for concrete surfaces: An epoxy floor consists of resins of more than three types of epoxy whereas the epoxy coating consists of only a maximum of two. This durable material is ideal for garages and basements.
Polyurea Polyaspartic – This is a durable, industrial material that is applied in layers. It has a strong chemical makeup, designed and used for bridging repairs, will set quickly, and is a more ideal choice than epoxy. Originally used for commercial and industrial surfaces, the need for a quick-drying material made it available for residential construction and repair use. It can resemble paint or a clear sealer on both concrete and wood. It can also be customized with multiple-colored acrylic chips.
Industrial And Commercial Floors Are Also A Specialty
Sundek of Nashville can also resurface your warehouse or factory floor with one of three different types of tough coating, from our well-known epoxy-based floors to even-tougher polyaspartic coats, and some applications can be done in as little time as one day.
Outdoor Concrete Was Our Specialty From The Start
When Sundek opened its doors in 1970, we were pioneers in pool patios-we created the textured surface that you see on pool patios around the country today.Sundek of Nashville will transform any pool deck or patio from a bland, functional slab into a masterpiece of elegance. The Sundeck system of acrylic concrete overlay allows us to create almost any type of pattern on top of the concrete, from different stone designs to brick pavers, we can do it all. That's why Sundek does concrete better.
Sundek of Nashville has a AAA+ rating from the Better Business Bureau. Sundek does concrete better because we never stop trying to be better for you. You can't waste time worrying if your concrete contractor is up to par. Choose the one whose name was made synonymous with excellence due to 42 years of ton-notch work.