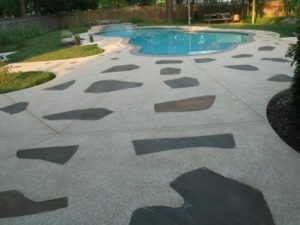 There are several outdoor paving options out there but stamped concrete is probably one of the most popular among homeowners. Aside from the fact that it comes in a variety of colors and patterns, it is also one of the most inexpensive decorative concrete services. Stamped concrete cost in the Nashville metro is quite affordable based on the value it brings to your residential or commercial space.
Contact us for a free estimate
How much does stamped concrete cost?
When it comes to the actual cost, stamped concrete contractors are the best people to ask because they know the actual prices of materials, the work involved in each installation, and what factors would actually have a significant effect on stamped concrete price. Here is a rough estimate of the cost of stamped concrete based on the most common circumstances:
BASIC – For a single color and one basic pattern, you can expect to pay around $8 to $12 per square foot.
INTERMEDIATE – For two or three colors and a border with a contrasting pattern, you can expect to pay $12 to $18 for each square foot.
HIGH-END – For a realistic look with complex patterns and hand-stained variations, you can expect the cost to go from $18 and higher.
What makes stamping concrete expensive?
Concrete is a highly reliable material because it is as durable as time itself. Now, it can be customized in a way to replicate the actual material it is being substituted for. There are certain processes, done with skill and specialized tools, that make stamped concrete fancier and pricier, such as:
Hand-staining – This is the process of applying variations of colors to concrete to acquire the realistic look of what it is trying to resemble. For example, you can mix up certain earth tones to make it look like real wood or a naturally-occurring stone. This is commonly done on patios and pool decks.
Custom Score Lining – This is the process of scoring the surface of the concrete to make a personalized, random design. This is often done on concrete surfaces that have major cracks which cannot be repaired or sealed. The score lines masks the cracks, allowing the concrete slab to move freely, thus, preventing more severe or reoccurring cracks.
Hand-carving – Using hand-held tools, this process allows a skilled professional to create an old, weathered look on the edges of the stamped stones. This is ideal for driveways and walkways.
Stamped Concrete: A Sound Investment
Once you find out how much is stamped concrete, it would be nice to know that it is something worth investing on. Not only will it provide you with an aesthetically-pleasing and functional outdoor space, it will also help lift property value several notches higher.
Contact us for a free estimate
Read more about stamped concrete cost on the Concrete Network!