Stamped Concrete
At SUNDEK of Nashville, we have been creating beautiful stamped concrete surfaces at residences and commercial properties since 1984.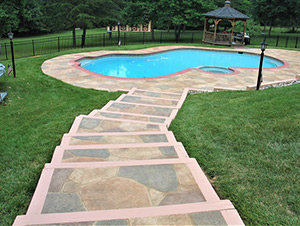 How do you stamp concrete?
If you're starting from scratch, a concrete stamp is applied to freshly poured concrete. But if you have an existing concrete surface, you can get stamped concrete on that surface!
Contact us to get a quote for your stamped concrete project
At SUNDEK of Nashville, we apply a coating to the top of your existing surface after properly preparing it. Then we imprint the design of your choice into the coating. This means you can get beautiful stamped concrete without getting rid of the concrete you already have—saving you time and money.
Can I stamp concrete myself?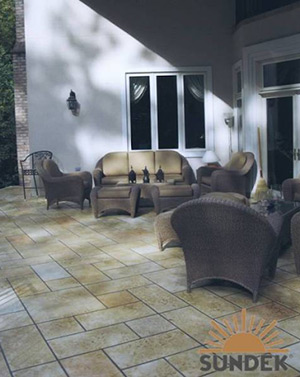 While it's possible to do it yourself, we recommend hiring an experienced, professional contractor such as SUNDEK of Nashville to install your stamped concrete surface. Our trained installers have lots of experience working with concrete in the Nashville area. They know the right techniques to use, including the best weather conditions in which to do the installation for best results.
What kind of stamped concrete patterns does SUNDEK of Nashville offer?
We can create any design you dream up. We have many patterns to choose from, but if you don't see something you like, we can create a custom pattern. If there's a particular material you like, we can mimic that look, whether it's brick, cobblestone, limestone, wood, or another material.
In addition to creating your pattern of choice, we can use concrete stain to give it the look you want. You can either stain everything one color, or you can choose to use a variety of colors.
You choose the design. We'll make it happen! (And we're happy to help you discover what look you want, too, if you need help deciding.)
Contact us to get a quote for your stamped concrete project
How much does it cost to have stamped concrete installed?
The cost depends on several factors: the condition of your existing surface, the size of the project, and the type of design you want. Contact us for a free estimate.
Can damaged concrete be stamped?
Yes! At SUNDEK of Nashville, we are experts in concrete repair. Even if your existing surface is cracked, spalling, flaking, or has any other type of damage, we can repair it and then stamp the entire surface. You won't be able to tell there was previous damage. In addition to repairing the damage, we'll also assess what caused the damage and help prevent it from occurring again.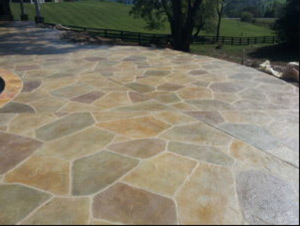 Is it hard to maintain a stamped concrete surface?
All SUNDEK surfaces are straightforward to maintain. We always seal our surfaces with a high-quality sealer that protects it from general wear and tear. The sealer also makes it non-porous, so it's easy to wipe up spills.
Common question: Is Stamped Concrete Slippery?
General maintenance includes removing dust and other debris with a broom or blower and also moping or hosing off the surface every few weeks. For stains that are hard to remove, we recommend a pressure washer or a non-abrasive commercial cleaner that's recommended for concrete. If you have more questions about maintenance, you can contact us and learn more about maintenance here.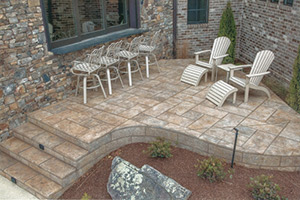 Contact us about your stamped concrete project
We'd love to help with your resurfacing project. Contact us in one of the following ways so we can get started.
Call us: (615) 822-7134
Email us: [email protected]
Or fill out the form on this page
We serve all of Tennessee and surrounding areas, including Paducah, KY; Bowling Green, KY; and Huntsville, AL.