Concrete Driveway Resurfacing
At SUNDEK of Nashville, we've been resurfacing driveways for commercial and residential properties since 1984.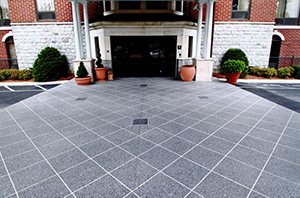 See more pictures of driveways here
Get a new look for your driveway with concrete coatings
You can get a brand new look for your driveway without having to tear anything out! Our installers at SUNDEK of Nashville can apply a coating to the top of your existing concrete driveway and customize it to give it the look you love.
Contact us for a free driveway estimate
Can you resurface a damaged driveway?
Yes! If your concrete driveway is cracking, chipping, spalling, fading, or has other damage, we can repair it (we specialize in concrete repair, too). After repairing the damage, we can resurface your concrete driveway, making it look brand new.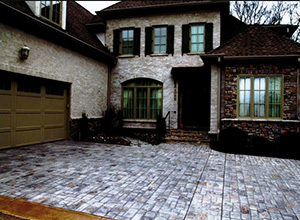 Design ideas for your driveway
A driveway is often the first thing people see when approaching your residence or business. We can help make it beautiful!
Popular driveway services:
At SUNDEK of Nashville, we can design your driveway to fit any style you choose. We have a variety of colors, textures, and patterns to choose from. If there's a particular look you like such as brick, cobblestone, wood, or any other sort of material, we can mimic that look with our concrete coatings.
Driveway maintenance
Maintaining a SUNDEK surface is easy. We apply a high-quality sealer on top of the driveway after the design is complete. Not only does the sealer protect it from things like oil spills, UV damage, fading, and other wear and tear, it also makes it easier to clean. (Read more about why we use sealers on all our surfaces.)
General maintenance includes removing dirt and other debris with a broom, leaf blower, hose, or pressure washer every few weeks. For stains that are hard to remove, a non-abrasive commercial cleaner usually does the trick.
Contact us about your concrete driveway
We serve all of Tennessee and surrounding areas, including Paducah, KY; Bowling Green, KY; and Huntsville, AL.
Call us: (615) 822-7134
Email us: [email protected]
Or fill out the form on this page
Contact us for a free driveway estimate