Residential Concrete Floors in Nashville
Can you put concrete floors in a house?
Yes, you can! In fact, concrete floors are a great flooring solution for homes. In addition to being beautiful and customizable to fit any style, there are many other reasons people choose to put concrete floors in their homes. For one, they are easy to clean. When they are sealed properly, it's very easy to wipe up spills and prevent stains. Homeowners who put concrete floors in their house also find that they help with allergies because they don't collect dust bunnies or other allergens.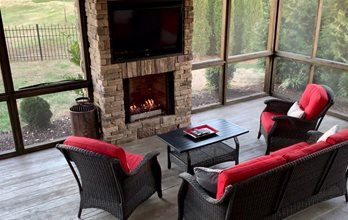 SUNDEK of Nashville installed and designed these concrete floors to look like wood floors at a residential built-in patio.
Where are concrete floors installed in homes?
A decorative concrete floor or epoxy floor can be installed in basically any room of a house. Here are some of the common places homeowners have asked us to install them.
Basements
Bathrooms
Screened-in patios
Kitchens
Laundry rooms
Living room
…and more!
Contact us for a free quote
How to clean residential concrete floors
Cleaning residential concrete floors is surprisingly easy!
General maintenance includes:
Sweeping as often as needed to keep the floor free of dirt, dust, etc.
Mopping as often as needed to remove grime and sticky spots.
Wiping up spills as they occur and not letting them sit for long periods of time.
For spots that are hard to clean, a non-abrasive commercial cleaner should do the trick. We always apply a high-quality sealer to our floors. The sealer will protect it from general wear and tear. Learn more about the importance of using a sealer.
Residential concrete floors DIY
While it's possible to install your own concrete floor, it's a decision to consider carefully before taking the leap. Here are just a few of the reasons we urge homeowners to hire a contractor:
Before a decorative concrete coating is installed, the surface needs to be properly prepared so that the material will adhere to it.
An experienced contractor knows common pitfalls to avoid and specifics about drying time, appropriate temperatures for application, how to create patterns, and more.
In addition to purchasing the concrete, you'll need the materials needed to mix and apply the concrete properly, too.
A reputable contractor will seal your floor—a step that will protect it from wear and tear and damage if heavy objects fall on it.
Color & texture options
One of the many great things about concrete floors is that they can be customized to fit the style of your home. Here are a few aspects of design that can be personalized:
Color. Concrete doesn't have to be gray, although some customers do prefer a simple, gray industrial look. If you're looking for something different, though, keep in mind that with concrete staining you can get anything ranging from earth tones to vibrant colors. Stained concrete floors in a house are a beautiful sight! If you're deciding between painting concrete floors in your house and staining the floors, staining is the superior option. The great thing about concrete staining versus concrete paint is that stain permeates your surface and won't chip or crack. See SUNDEK's color options here.
Patterns. Whether you want your floor to be continuous with no joints or you have a fancy design in mind, it can be done with concrete floors. At SUNDEK of Nashville, we can create the look of a medallion or even a custom stamp to imprint the logo of your favorite team! With stamped concrete we can create the look of just about any material. So if you're wondering if we can create concrete floors that look like wood—yes, we can!
Textures. Adding texture to a concrete floor is a great way to take it from looking plain to making it really interesting.
How much do residential concrete floors cost?
The cost of a residential concrete floor varies depending on several factors including size of the space, design, type of product used, and condition of your existing surface. The best way to get an accurate quote is to contact a professional contractor such as SUNDEK of Nashville to get a free quote.
Who installs residential concrete floors near me?
We install concrete floors in all of Tennessee and the surrounding areas, including Paducah, KY; Bowling Green, KY; and Huntsville, AL.and around Nashville. To get a free quote, contact us!
Call us at (615) 822-7134