Concrete Walkways, Entryways & Porches – Resurfacing
The front entry to your home or business acts as a welcome mat. We want to help make yours beautiful!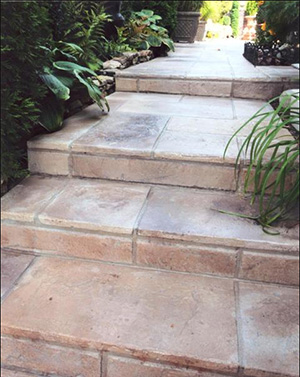 See more pictures of walks & entries
Concrete walkway design options
When you work with us at SUNDEK of Nashville, design options are limitless! We have a wide variety of colors, textures, and patterns available. We can also mimic your favorite material, whether it's brick, cobblestone, limestone, wood, or any other materials. Clients have also requested custom designs, which we love to create.
Get a quote for your project
Popular walkway services:
We can apply coatings to all concrete surfaces, so keep that in mind when planning your design. That means we can create matching or coordinating designs with surfaces like your driveway or your patio.
Fixing damaged concrete
We specialize in concrete repair, so even if your walkway, entryway, or porch is damaged, we can resurface it. We'll fix the damage, assess what caused it, and provide recommendations for preventing it from happening again.
Leveling uneven walkways
Uneven walkways can cause tripping hazards and spots where water puddles. We can fix that with resurfacing! When we apply the coating to your surface, we'll make it thicker in the spots that are depressed, making your surface even.
Contact us about your walkway resurfacing project
We serve all of Tennessee and surrounding areas, including Paducah, KY; Bowling Green, KY; and Huntsville, AL.
Call us: (615) 822-7134
Email us: [email protected]