Concrete Walkways, Entryways & Porches – Resurfacing
The front entry to your home or business acts as a welcome mat. Why not make yours beautiful?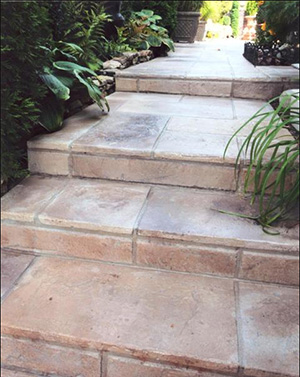 See more pictures of walks & entries
Why resurface?
If you have a walkway, entryway, or porch that's damaged or just needs an update, resurfacing is a great option. With resurfacing, you can have a decorative coating applied to the top of your existing surface. That means you don't have to tear anything out to get a surface that looks brand new and in a design that fits your aesthetic.
How does resurfacing work?
Resurfacing begins with an existing concrete surface. After the surface is properly cleaned, sanded, and prepped, the concrete overlay can be applied and then customized with colors, patterns, and textures.
Can I resurface a walkway myself?
Although it's possible to resurface your walkway, entry, or porch (or any other concrete surface) yourself, we don't recommend taking on this DIY project. Instead, we recommend hiring an experienced professional to do resurfacing work. Contractors with years of experience such as SUNDEK of Nashville know the common pitfalls to avoid when resurfacing. They're aware of what can go wrong, the best conditions to resurface in, and also the steps and techniques that will results in the best possible surface.
Concrete walkway design options
When you work with us at SUNDEK of Nashville, design options are limitless! We have a wide variety of colors, textures, and patterns available. We can also mimic your favorite material, whether it's brick, cobblestone, limestone, wood, or any other materials. Clients have also requested custom designs, which we love to create.
Get a quote for your project
Popular walkway services:
We can apply coatings to all concrete surfaces, so keep that in mind when planning your design. That means we can create matching or coordinating designs with surfaces like your driveway or your patio.
Can I resurface a damaged walkway?
We specialize in concrete repair, so even if your walkway, entryway, or porch is damaged, we can resurface it. We'll fix the damage, assess what caused it, and provide recommendations for preventing it from happening again.
Leveling uneven walkways
Uneven walkways can cause tripping hazards and spots where water puddles. We can fix that with resurfacing! When we apply the coating to your surface, we'll make it thicker in the spots that are depressed, making your surface even.
Extending or changing the shape of your walkway
If you want to extend your walkway, widen it, or change the shape in any way, resurfacing helps blend your old and new surface together. After pouring the new concrete to change the overall walkway, you can apply a coating to the surface. When it's done, you won't be able to tell where the old surface ends and the new one begins.
Contact us about your walkway resurfacing project
We serve all of Tennessee and surrounding areas, including Paducah, KY; Bowling Green, KY; and Huntsville, AL.
Call us: (615) 822-7134
Email us: [email protected]