Concrete Coatings for Offices & Business Parks
If you need your indoor or outdoor surface redone at your office or business park, SUNDEK of Nashville can help.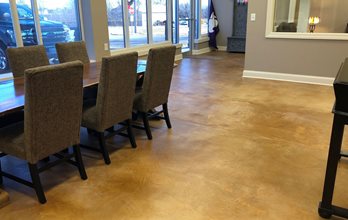 SUNDEK of Nashville resurfaced this office floor in Lascassas, TN.
See more pictures of offices & business parks
A visually appealing workspace is good for employees and business owners alike. We enjoy working with our clients to beautify their offices and business parks by installing gorgeous indoor or outdoor surfaces. Our surfaces are durable and can be customized to fit any style you want.
Services we provide for offices & business parks:
Contact Us for a Quote
How long will it take to complete my resurfacing project?
The length of time it will take to complete your project depends on the size of your surface, the condition of your existing concrete, and what type of design you want. We work as efficiently as possible to get the job done right and also within your timeline so you can get back to business as usual.
Contact us about your project
We serve all of Tennessee and surrounding areas, including Paducah, KY; Bowling Green, KY; and Huntsville, AL.
Call us: (615) 822-7134
Email us: [email protected]